Muktinath-Chumig Gyatsa






Muktinath
Muktinath-Chumig Gyatsa is one of the most important pilgrimage sites of Nepal for both Buddhists and Hindus. It is a great example to our world of a sacred place shared in harmony by devotees of two world religions.

The traditional caretakers of the sacred place are the nuns of the lineage of Lama Wangyal. Their international support is channeled via the MFI. For more information, please see our donation page.
For other nunneries nearby, please see here. This page includes a link to a very nice movie about Muktinath-Chumig Gyatsa and the nuns of the lineage of Shangpa Rinpoche.
Renovation
The renovation of Narsingh Gompa and the Central Temple started last year. The works on the Central Temple are completed. For recent pictures, please, see our new Flickr account. During the next few weeks we will upload more pictures.

Did you visit Muktinath in the eighties or before?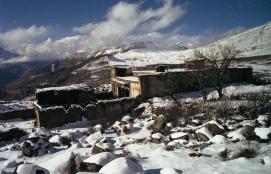 The MFI is looking for people who made film or video recordings, slides or photographs of the pilgrimage site or its pilgrims.
(Sangdo Gompa at Muktinath © 1980 Frank Ossen)

For more information, please contact us.