Lord Krishna said:
Whosoever desires to worship me with devotion and attention in whatsoever form (since all are my forms) I give unto them whatsoever they desire through the very same form.

The Supreme Lord
Lord Krishna is the symbol of many virtues. He is one of the most widely revered and most popular of all Hindu divinities, worshipped as the eighth incarnation (avatar, or avatara) of Vishnu and also as a supreme god in his own right. Krishna became the focus of numerous bhakti (devotional) cults, which over the centuries have produced a wealth of religious poetry, music, and painting.

Symbol
Krishna is the symbol of an able statesman, a warior, a great philospher and a teacher. He is the symbol of love, devotion and joy.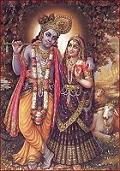 Radha
The consort of Krishna is Radha. His love for her is an allegory of the union of The Supreme with nature.

The basic sources of Krishna's mythology are the epic Mahabharata and its 5th-century-AD appendix, the Harivamsha, and the Puranas, particularly books 10 and 11 of the Bhagavata-Purana.

Backgrounds on Krishna and Salagrama
Online backgrounds on Krishna
Images of Krishna

More online information
For more backgrounds on Hindu Deities & images see the Hindu Deities Index.



Back to your previous page

Annapurna - Muktinath Map - Muktinath History - Muktinath Lama Wangyal - Travel Info - Nuns - Picture Gallery - Site Map- MFI Recommendations
Support us with a donation