Late Shangpa Rinpoche in 1956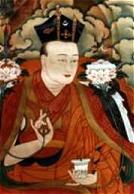 H.H. Karmapa XV

Lama of Shang
Shangpa Rinpoche is one of the great Buddhist yogis connected to Muktinath-Chumig Gyatsa. His previous incarnation was born near Tashihlunpo in Tibet at the end of the nineteenth century and became a student of the 15th Gyalwa Karmapa, Kakyab Dorje (1871-1922), the head of the Kagyu lineage witin Tibetan Buddhism.

After years of meditation Shangpa Rinpoche started to travel through the Himalayas to turn his energies to reviving Buddhism in the Tibetan-Nepalese boarderlands.




Chumig Gyatsa
Shangpa Rinpoche rebuilt sevaral monasteries in the Himalayas of Nepal, like the famous Sandul Gompa in West Nepal near Tarakot, and at his inspiration in West Nepal new temples and stupas were built. Just near the pilgrimage site Muktinath-Chumig Gysatsa Rinpoche built a nunnery.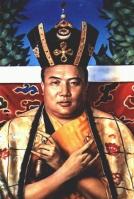 H.H. Karmapa XVI
Picture
The above picture of Shangpa Rinpoche was made in 1956 by the scientist Dr. David L. Snellgrove when Shangpa Rinpoche - meaning 'The Precious One from Shang' - was about 65 years old. Quite soon afterwards Rinpoche died.

In 1962 at the age of two his incarnation was recognized by the 16th Karmapa, H.H. Ranjung Rigpa'i Dorje (1923-1981). After going through many hardships, he and his mother finally arrived in Pokhara, Nepal. His Holiness, the 16th Gyalwa Karmapa, ordained him when he was 9 years old.

Annapurna - Muktinath Map - Muktinath History - Muktinath Lama Wangyal - Travel Info - Nuns - Picture Gallery - Site Map - MFI Recommendations -
Support us with a donation